Many people use the term "club dance music," but they don't always communicate about the same thing. Most of the time when people use this term I get the impression that they mean something like a music genre. However, there does not exist a genre called "club dance music."

What is club dance music? It is a combination of the terms club and dance music. However, there is not an official definition of the term, but there are at least a few possible meanings, which are:
It is just dance music, but these tracks have more focus on the mixing for DJ's. So DJ's can do their job better/simpler in clubs.
Dance music played in a club.
Something that could be part of a "terms of use." For example, "You may only play this track in a nightclub. So, you may not play this track on festivals or radio."
Some fancy term made up by some artist, by which he or she could mean a new music genre with it. Which would be strange since dance music itself is already a broad range of music genres.
Club dance music is a synonym for dance music.
In this post, you can read the definitions of the terms club and dance music. Also, you can find here a short explanation of club and dance music. When you know both definitions and explanations, then you probably have a great understanding of what "club dance music" can mean.
Club (nightclub)
A club is a simplified name for a nightclub and a music club. The meaning of club is way too broad, and music club has not any meaning, it is only a combination of the words music and club. Here in this post, I have used the term club a lot, but I mean the term nightclub by it.
There are many definitions of the term nightclub, but I like the one from Oxford Dictionaries the most. Nightclub: An entertainment venue that is open from the evening until early morning, having facilities such as a bar and disco or other entertainment.
What the terms nightclub and music club suggest is correct, since most clubs are only open in the night, and every club plays music for the public. Furthermore, clubs are a combination of an entertainment venue and a bar.
The difference between clubs and regular bars, pubs or taverns is in live music. Clubs have three things for live music:
a stage
one or more dance floor areas
a DJ booth, where a disc jockey (DJ) can play music
Club stage
A club stage is a space for the performance of productions. It serves as a space for performers and as a focal point for the audience. Furthermore, an architectural feature of the stage may consist of one or more platforms.
In the case of a nightclub, there is at least one performer who is a DJ. The people in the club are of course the audience. Plus, it is common that there is a DJ booth on the stage.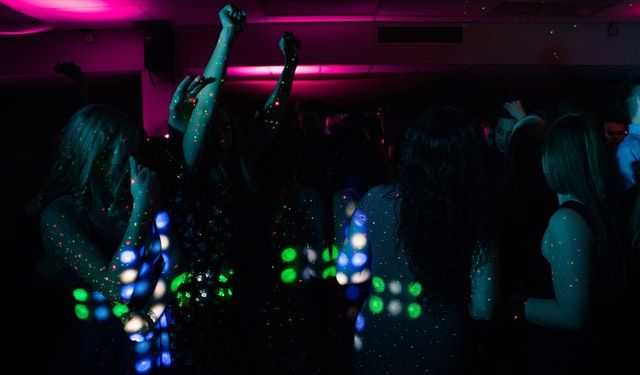 Dance floor area
A dance floor area is, of course, an area with a dance floor. The dance floor itself is a performance surface, and such a surface is a flooring suitable for dancing or sporting. For the people whom actually might wonder, it is not common to sport in a club.
Some people like to dance on a dance floor, but not everyone chooses to do it. The people who will do it, they can also decide to do this in a particular vernacular dance/street dance. Alternatively, they can dance just in a way they like it, without thinking much about how to do it, which is also more common.
DJ booth
A DJ booth is a piece of furniture for DJ, for this reason, it is also called DJ furniture. A DJ can use such furniture for his or her equipment. Furthermore, for as far I know, a DJ booth is always practical in a way and never only for good looks.
Some practical functions that DJ furniture can have are:
You can put your equipment on it. Plus, sometimes as an extra, you can transport your equipment with it. As an example, it can be a big enough box.
Something with lights, so it can make equipment more visible in dark places.
It can protect the equipment and the DJ.
Dance music
First of all, dance music has many synonyms, so maybe you know the meaning already. These synonyms are:
electronic dance music (EDM)
dance music
club music
dance
I would never use the term dance since it can be confused with dance from dancing.
There are many definitions of the term dance music, but I like the one from Cambridge Dictionary the most. Dance music: A type of music with a strong beat that people dance to in a nightclub. Furthermore, this definition can be hard to understand since it doesn't mean that it is music only meant for nightclubs.
Dance music is an umbrella term for a broad range of percussive electronic music genres. So, to make (produce) this kind of music, we have to use at least one electronic musical instrument, to make it electronic music. Plus, we have to use at least one percussion (like a drum) in your music, or else it is not percussive music.
People (producers) make dance music mainly for nightclubs, raves, and festivals. Also, it is generally made for playback by disc jockeys (DJ's). So, many people keep in mind while making a track (song), that a DJ could want to use the track to create a seamless selection of tracks, called a mix. A DJ create such a mix by segueing from one track to another.
Recommended methods to listen to dance music
There are many ways to listen to some dance music. However, of all of those methods, I explain three of my recommendations here in this section.
Online music store like Beatport
There are many online music stores, and of course, not all of these have themselves specialized in dance music. Beatport is probably the most well known online music store that is electronic music-oriented.
Beatport is a place where you can hear or buy specific dance music, divided over genres. So, you can learn something about how music in a specific genre sound. Also, the primary audience of the store is DJ's, by selling full songs and selling resources that are usable for remixes and new songs.
Audio streaming service like Mixcloud
An audio streaming service is just a service where you can listen to audio like songs. There are many services like these, but most of the time I recommend Mixcloud since they have many full DJ mixes on it.
Many DJ's recorded their live mixes and placed them afterward on Mixcloud, to which you can listen. Such live mixes played a DJ at a nightclub as an example. So with Mixcloud, you can listen to the same mixes as performed in a club.
Online video platform like YouTube
An online video platform is a place where people can put videos and watch videos. Many people only know one online video platform, which is YouTube.
I recommend listening to something that could be club dance music, which you can do by searching "club dance music" on YouTube. When you do, then you will find an extreme amount of results, by which most are mixes. When you listen to these mixes you will (or else the mix is bad) hear multiple songs seamlessly played after each other, which can be hard to notice.
The results are also very vague since they don't always mention the genres. So, every track played in these mixes can be in a different dance music genre. Plus, maybe not every track you will hear from such a mix is dance music.
It can be interesting to know what club dance music is for many people.
Make (produce) dance music
There is an endless amount of methods in how someone can produce dance music. However, for the most common method we need two things:
A computer with speakers, like a laptop.
A digital audio workstation (DAW) and it should run on the computer.
Probably everyone can learn how they can make dance music, but many think they can't. The reasons why they think that has most of the time something to do with three common misconceptions about producing dance music, which are:
All producers are creative persons.
Every producer has extremely good and well-trained ears, sometimes also called golden ears.
Producers have a huge amount of knowledge about music theory.
If you would like to learn more about how to produce dance music, then you can do it at this place. Moreover, this place is also helpful for newcomers. Newcomers are people without any experience in producing dance music and without any knowledge of music theory.
If you are a newcomer, then I recommend reading the post: "The Bare Basics of Electronic Dance Music Production." Alternatively, if you are not a newcomer, then I recommend taking a look at the production part to see if there something is interesting for you.
Probably everyone can learn to produce dance music, which is a good thing to keep in mind.
Possibilities for the term club dance music
We know now three things that can help to determine the term club dance music, which are:
Club dance music is not an official term.
We have a definition and an explanation of the term: club.
We have a definition and an explanation of the term: dance music.
When I combine those three things, then I can think about a few possible meanings, which are:
It is just dance music, but these tracks have more focus on the mixing for DJ's. So DJ's can do their job better/simpler in clubs.
Dance music played in a club.
Something that could be part of a "terms of use." For example, "You may only play this track in a nightclub. So, you may not play this track on festivals or radio."
Some fancy term made up by some artist, by which he or she could mean a new music genre with it. Which would be strange since dance music itself is already a broad range of music genres.
Club dance music is a synonym for dance music.

If I could choose one of the possible meanings to make an official definition of it, then it would be: Club dance music is a synonym for dance music. The reasons why I choose that one is that the other options are in my opinion too technical, too hard to understand, or just simply wrong. Plus the main reason is that I think it is the most simple one, so it is harder to get the definition wrong.
Conclusion
There is no official definition of the term club dance music. When we know the definitions and explanations of the terms club and dance music, then we can find possible definitions for the term club dance music.
If you like this post, then you may want to look at some posts in the lifestyle part, since this post is also part of it.
Hopefully, you have learned something about the terms club and dance music. Also, when you know someone who likes to know what the term club dance music can be, then feel free to share this post. Additionally, what is your definition of the term club dance music?