Some people use the term "club dance music," but those people don't always communicate about the same thing. When people use this term, I sometimes get the impression that they mean something like a music genre.

Club dance music is a combination of the terms club and dance music. Club dance music could be the same as electronic dance music (EDM) since EDM is also known as dance music and club music.
This post gives more information about what club dance music could mean. This post also explains the terms nightclub, dance music, and electronic dance music, which could help you better understand the possible meaning of club dance music.
The Possible Meaning of Club Dance Music
As already mentioned, the term club dance music is a combination of the terms club and dance music.
The word club may refer to many things, such as a soft drink brand or golf club (source: Club). However, I think that the word club part of the term club dance music refers to the word nightclub since that makes sense to me when looking at the meaning of dance music.
The term dance music does have a clear meaning (source: Dance music). Dance music is also known as electronic dance music (EDM) and club music (source: Electronic dance music). Therefore, I think that club dance music can mean the same as EDM for many people.
Some people see the word 'dance' as a music genre. For example, the online music store Beatport, which is electronic music-oriented, does have a music genre called "dance / electro-pop" (source: Beatport, Beatport (Wikipedia)).
This post explains the terms nightclub, dance music, and electronic dance music below.
Nightclub
A nightclub is also known as a music club or club, and it is a bar and entertainment venue that generally runs into the night. A nightclub is usually different from regular bars, taverns, or pubs by including a live music stage, at least one dance floor area, and a DJ booth, where a DJ plays music.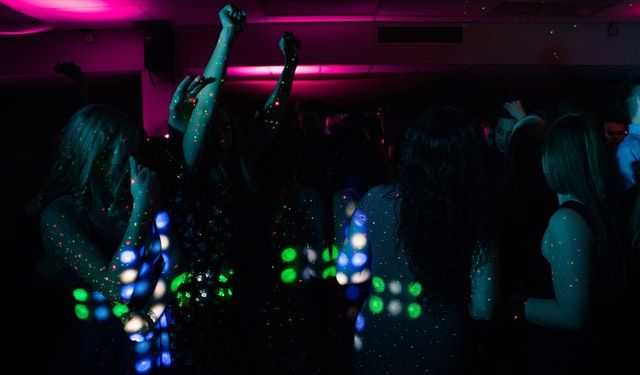 Nightclubs can have a luxurious nature. For example, some nightclubs have VIP areas, which celebrities and their guests can use.
Nightclubs are more likely to use bouncers to screen clubgoers for entrance than sports bars or pubs. Some of these bouncers do not allow people with casual clothing or group apparel by the dress code rules.
The most active nights for nightclubs are those of Fridays and Saturdays. Many nightclubs have recurring club nights on various weekdays.
People can listen in most nightclubs or club nights to specific music genres, such as hip hop or house music. Most club nights concentrate on a music genre or sound for branding results (source: Nightclub).
Dance Music
Dance music is music specifically made to accompany or aid dancing, either an entire musical composition or a section of a musical arrangement.
The two major categories of dance music are recorded dance music and live dance music.
There is evidence of the combination of dance and music in ancient times, such as Ancient Greek vases that show musicians accompanied by dancers. The earliest Western dance music that we can still copy with some certainty are several medieval dances that survived.
In the Baroque era, the primary dance styles were the noble court dances.
People used the minuet often as a third movement in the classical music era. However, as part of the third movement, it would not attend dancing. The waltz dance appeared later in the classical era.
The minuet and waltz dances stayed part of the romantic music period. This period also witnessed the start of several other nationalistic dance forms. Some of these dance forms are the barcarolle, ballade, ecossaise, polonaise, and mazurka.
Contemporary popular dance music originally developed from the late 19th century's Western ballroom and social dance music. During the beginning of the 20th century, ballroom dancing increased in popularity among the working class who went to public dance halls.
Throughout the 1920s, dance music became immensely popular. The Swing era was in the 1930s. In this era, swing music was successful dance music in America. Rock and roll became popularized dance music in the 1950s.
At the end of the 1960s, there was a rise in R&B music and soul. Cuban and Dominican New Yorkers invented the famous salsa dance in the late 1960s, which arose from the Latin salsa music genre. At the beginning of the 1970s, the rise of disco led to dance music becoming familiar to the public.
At the end of the 1970s, electronic dance music was growing. Electronic dance music, which we can make using electronics, is a popular music style regularly played in nightclubs, raves, radio stations, and shows. Many electronic dance music subgenres have emerged (source: Dance music).
Electronic Dance Music
Electronic dance music is a large range of percussive electronic music genres.
EDM is usually produced for playback by DJs who perform a seamless sounding selection of tracks (songs), called a mix, by segueing from one track to a different one. DJs/producers can perform their music live in a concert or festival setting, and such a performance is sometimes named a live PA (live public address or live personal appearance) (source: Live PA).
EDM realized widespread mainstream popularity in Europe when in the late 1980s and early 1990s appeared the rise of raving, an upsurge of interest in club culture, and pirate radios. At that time in the United States, people did not commonly accept the dance culture outside New York City. However, both electro and Chicago house music were important in the United States and Europe, but the record industry and mainstream media outlets continued being openly hostile to the music.
There was a perceived association between EDM and the drug culture, which influenced governments at the state and city level to establish laws and policies meant to prevent the spread of rave culture.
In the new millennium, EDM's popularity increased globally, mainly in Australia and the United States. In the early 2010s, the American music industry and music press pushed the term "electronic dance music" and the initialism "EDM" to rebrand American rave culture. Despite the industry's effort to create a particular EDM brand, the initialism is still an umbrella term for multiple genres, such as dance-pop, techno, house, and electro, including their respective subgenres (source: Electronic dance music).
Closing Words
Hopefully, you have learned something about what club dance music could mean.
If you like this post, look at some other posts on this website since you might also like them.
When you know someone who likes to learn more about what club dance music could be, you can share this post.